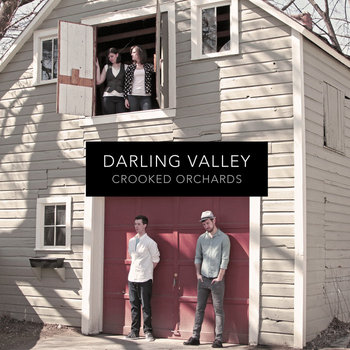 Sometimes you come to love a band because they put out amazing music. Sometimes you love them because they are amazing people. In the case of upstate New York's Darling Valley, both are true in abundance. Playing wonderful folk-pop that is the perfect balance of radio-friendliness and old fashioned goodness, this quartet comprised of two couples gave us something amazing with their debut LP Crooked Orchards.
Due to some complications, this interview sat in my inbox for an absurd amount of time, but the kind folks in the band still allowed us to run it here. 
https://darlingvalley.bandcamp.com/
http://soundsandtonesrecords.bandcamp.com/album/crooked-orchards
Rob 1340 (RF): Hi! Thank you very much for taking the time to chat with us. Would you mind introducing the members of the band and what everyone plays?
Ashleigh Whitfield (AW): Lauren (Foster), TJ (Foster) and I share vocal duties. Lauren also plays trumpet, and I do keys and percussion. Jordan (Stewart) is our guitar, mandolin and cowbell extraordinaire, and TJ plays everything from guitar to drums to didgeridoo to theremin. 
RF: How did the four of you come to be Darling Valley?
Lauren Foster (LF): The four of us came to be Darling Valley over the course of a few years. The band started as a two piece and then quickly became a five piece, down to a three piece, and finally a four piece. The morphing spanned many different talents and tastes until we found our niche. At the time we were called "Accents" - but that old name didn't fit the new, folk pop-y sound that we gravitated towards. We loved where we came from, but as we became a four piece we felt new. It was important to us to cherish that new feeling while remembering our roots. 
Jordan Stewart (JS): TJ and I have known each other for a pretty long time, and we've played in a few different bands together. He kind of adopted me as lead guitarist for his songwriting over the years, which is very flattering because I wasn't very good when we started! "Accents" is really the direct precursor to Darling Valley as Lauren said – that was originally a solo project TJ started, and he brought a rhythm section, Lauren, and myself in to complete the live line-up for the 1st album. After that we wrote and recorded a follow-up album, and during that time we all collectively got married (not all together….but might as well be for all of the time we spend together). Right after that release though, the other two guys left to pursue some other projects, and we kind of had to make a decision of where we wanted to go. Ashleigh started joining us for shows to help fill out our live sound, and things just gelled and we kind of saw where we could take the band. We still play a few Accents songs live, but Darling Valley has become its own thing. 
RF: How did you come to work with Sounds and Tones Records?
JS: We first worked with Sounds and Tones earlier this year, when they asked us to play a Feminism in the Arts Showcase that they put on for Women's History Month. We got on their radar thanks to our friends in Joe Mansman & the Midnight Revival Band, so we certainly owe them for that! In playing that show, we were all immediately struck by how passionate Chris Hantman and the whole S&T team was for music and artists, as well as the fact that they shared our love of supporting great causes through music. We had a great time and kept in touch. When we finished the album a few months later, we didn't quite know how we were going to release it. Right around the same time, Chris reached out to us and just expressed how much he loved what we were doing, and that if we ever needed a partner for our the album, S&T would be happy to release it. We knew what a great community was involved with S&T, and that coupled with the fact that they had real excitement for our music made it a perfect fit. They have been incredible to work with so far, and the artists on the roster are some of the most talented people that we know. 
RF: Sounds and Tones has had a bit of an inroads into the CNY scene with yourselves and Joe Mansman. What other artists in the Central New York scene should people be on the lookout for?
TJ Foster (TF): In addition to Joe and his band (who put on an incredible show, by the way), we're lucky to have a lot of friends in bands in the area, and even luckier to have no shortage of talent. Stellar Young - they have been getting huge in this area over the past couple years (a few of them actually went to college with Jordan and I). And Olivia Quillio is a fantastic singer/songwriter who reminds me of what I imagine a Norah Jones/Feist hybrid would sound like. 
AW: The Stockade Kids put on an amazing live show. Lauren and I fangirl over them every time.
RF: Where did the name Crooked Orchards come from?
LF: Crooked Orchards was probably one of the easiest decisions we settled on as a band. That's saying a lot! We wanted an album title that was symbolic of our two marriages. Crooked Orchards combines the names of the two separate places where we were married and where we all celebrated those weddings together. 
RF: What is your favorite track on Crooked Orchards?
AW: This changes every day for me…
LF: My favorite track on the record! It's very difficult to choose a favorite track on the whole record because each song has a different meaning to me. But I have told TJ that I think "Make it Right" is the best song he's ever written - when it comes on I can never skip it; it gives me chills. 
TF: Choosing your favorite track on an album is kind of like choosing between your kids… But if I had to pick, I think "Five Years At Sea" would get my vote. To me, this is the epitome of the collaboration between the four of us that went into this record. I wrote this one entirely instrumental first and we then came up with the idea to visit the lyrics and melodies from all different perspectives. So Jordan came up with a story for us to follow, I wrote the verses, Lauren wrote the choruses and Ashleigh wrote the refrain. And it's one of the only songs on the record that we each sing our respective parts with no backing from the others until the very end when we all come together. That particular moment was kind of a happy accident during recording and we were all just beaming afterwards. In addition to that, this album marks the first time I've ever played or recorded drums and "Five Years at Sea" was such a blast to write and play in that respect.
JS: For me, it is "Five Years at Sea" as well. It's this perfect combination of all of the different styles and bands that I have loved over the years. I've always had a soft spot for concept albums and songs, so I love the fact that it has an overarching story. I'm always amazed at what my bandmates were able to do with their three part interweaving vocals and harmonies on it, and I love how the guitars have a very post-rock feel to them on the song, kind of reminiscent of "Explosions in the Sky" or similar bands. It's like…progressive folk post-rock. I also think the final message is an important one too: No matter what adventures you go on, don't forget to share time with the people who you love and that love you. They won't be around forever. 
RF: Your music video for "You'll Go Far Kid" was directed by an Eight Year Old. What's the story there?
TF: "You'll Go Far, Kid" is probably the most uplifting song I've ever written. Haha. It's basically a letter to my younger self combined with one to the next generation of confused and misunderstood kids about powering through the difficult times and believing in yourself along the way. I wanted to write a song that my daughter could listen and relate to even at such a young age. She is actually the director in question here. Even before we were finished with the album, we had the idea to have her film a video for us because we thought it would come out adorable and really capture the youthful, tight-knit side of our band. Because this particular song has a "follow your heart" type of theme, we took it one step further and wanted half the video to be the documentation of her conceptualizing and shooting it. It's sort of like music video inception, haha. Anyways, we're really proud of it, and most importantly so is she. 
JS: It was really great to just see a kid's perspective on the world. It's just so optimistic, with a feeling that you can do anything that you want. We really lose that as adults, which is sad. The message of the song is not to give up on your dreams and believe in yourself, so I can't think of a more perfect way than to let a little girl express her creativity.
Interview continues after video below:
[hmyt]https://youtu.be/F8Zlz1hsYSA[/hmyt]
RF: Do you feel Darling Valley's sound is best suited for the open fields of a festival or the closed confines of a bar/club?
TF: Definitely the open fields of a festival. The bar/club scene for a band like us can be tricky. Some nights you get crowds that are really respectful and there for the music, and then other nights you get crowds that are there mainly to drink, socialize and just see their friends play. And both are fine, but when you're playing relatively quieter arrangements like we do, the latter makes it more difficult to really find a groove on stage. We rely a lot on vocal harmonies and acoustic instruments, and our kind of 'organic' sound suits the great outdoors pretty well I think.
RF: If you could tour with any band currently playing today, who would you want to go out with?
AW: Frank Turner and the Sleeping Souls. I can listen to Frank Turner albums all day, every day for the rest of my life and never get bored.
LF: The Tallest Man on Earth! Wait, I take that back. If we toured with TMOE I would be too shamed to perform knowing and witnessing what an amazing musical experience he gives the audience. Just get me front row seats every night! 
JS: The Decemberists. No Question. I think stylistically it'd be perfect. Colin Meloy – give us a call! 
TF: My favorite band is Death Cab - if I could share the stage with them for even a night, I think I could die a happy man.
RF: Where can people learn more about Darling Valley?
AW: We have a brand new website, and we are on all of the social medias … although if you follow us on Snapchat, you'll have to help us figure out how to use it. Here's a handy list of where you can find us:
Website: www.darlingvalleyband.com
Facebook: www.facebook.com/darlingvalleyband/
Instagram: @darlingvalleyband
Twitter: @darling_valley
Snapchat: @darling_valley
RF: Thanks again gang!
[hmyt]https://youtu.be/AK4siyzM2YU[/hmyt]