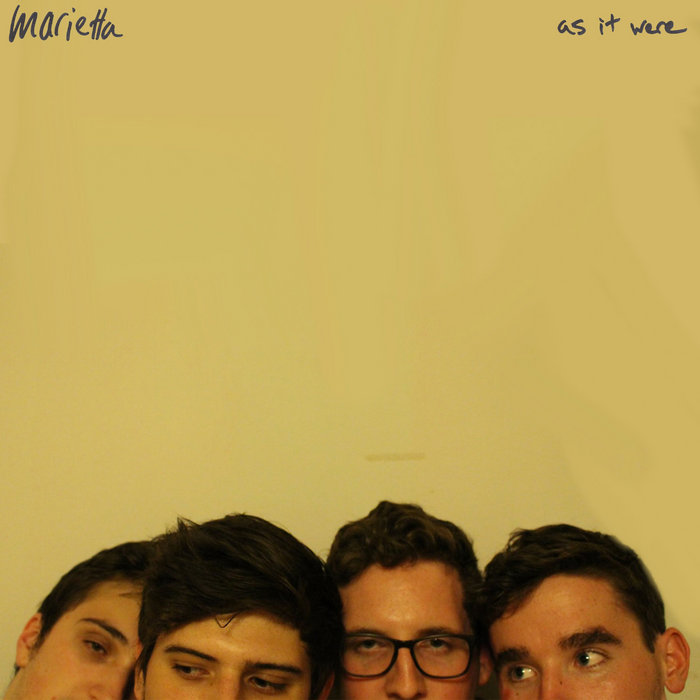 Marietta
As It Were
Near Mint Records
https://whereismarietta.bandcamp.com/album/as-it-were
Release date:  August 17, 2015
Most of the time, we don't know a good thing thing until it's gone. When the universe vibrates in perfect harmony and we get an overlap of critical acclaim and revolutionary talent and visions, like Nirvana or the Beatles, you get a damn comet that shatters popular culture and sends fragments in thousands of new directions. However, more often than not, we're looking backwards, on the snakey lines of influence that trace back to a preternaturally talented and undervalued band. We name movements in hindsight. We build maps in reverse.
The emo revival is, in a lot of ways, an attempt to correct for this shortsightedness, these missed opportunities. Its "bumping" a whole genre to increase visibility to an audience, an audience which is now of a size and receptiveness formerly undreamt of. But still we're losing bands in the shuffle. Even as more and more eyes turn to the kickass scene in Philly, as emo moves from an underground identifier to overplayed buzzword, as more bands release stellar records to increasing critical attention and appreciation, there are bands that slip beneath the radar.
Marietta has existed since the Snowing-era third (or fourth) wave of emo bands in the late aughts. They ended up enduring past the fruit-fly lifespan of their peers, but last year dropped what was to be their swan song, As It Were. We've already missed them. The album is a twinkly triumph, maintaining the exuberance that made the earlier rough homebrew recordings so vital while crafting tuneful emo pop songs.
"Pony Up!" dropped mere days before the album and those who were paying attending justifiably lost their shit. It's a stampeding anthem, bits of old shouty Brand New and a heavy coating of frenetic guitar riffs a la Algernon Cadwallader. "United Away," an updated version of the song from their very first demo, fits in like it was written for the album, which only shows how ahead of many of their peers they were. From the beginning, despite the ramshackle pace and hoarse vocals, they were constructing fully-realized, unselfconscious anthems, both expansive and efficient. "Horse Tattoo," "Are You Afraid of God...," and "5 Minute Raw Vegan (Are You Fucking Kidding Me)" form a three song run that showcases everything the band can do: soaring vocal melodies, endless drum fills, huge singalongs, and riffs on riffs on riffs. There's not a moment that isn't stuffed with ideas.
And it's gone, now. They're gone. When a new record appears in the corner of our visions, we generally wait to see if people are talking about it on twitter, we wait to see what Pitchfork gives it, we figure if it's any good we'll be forced to pay attention eventually. And we miss it. A gorgeous record brimming with guitars, gang vocals, and overflowing with exuberance. A record that never left my headphones on late night walks around my neighborhood in China where I moved for a year, not lonely exactly, but not at home, sometimes only really at peace in my headphones, only when I was mouthing along to these songs:
"I'M STILL HELD TOGETHER BY POORLY STITCHED UP TIMES, CAN'T LAST FOREVER, IF ONLY I HAD SOMETHING, SOMETHING TO HOLD ON TO"
"I'M TOO SCARED TO TELL YOU THERE'S NOTHING LEFT, ITS JUST A FLOATING SPECTER INSIDE MY HEAD"
"LIGHTING MY LIGHTER IN MY POCKET, REMINDING ME THAT I'M HERE"
Marietta was beautiful, Marietta was gone to soon, Marietta will never die.
Reviewed by Keegan 1340
[hmyt]https://youtu.be/wpAmooW8FLs[/hmyt]
#Marietta #AsItWere #NearMintRecords #NearMint #GoneTooSoon #Keegan1340