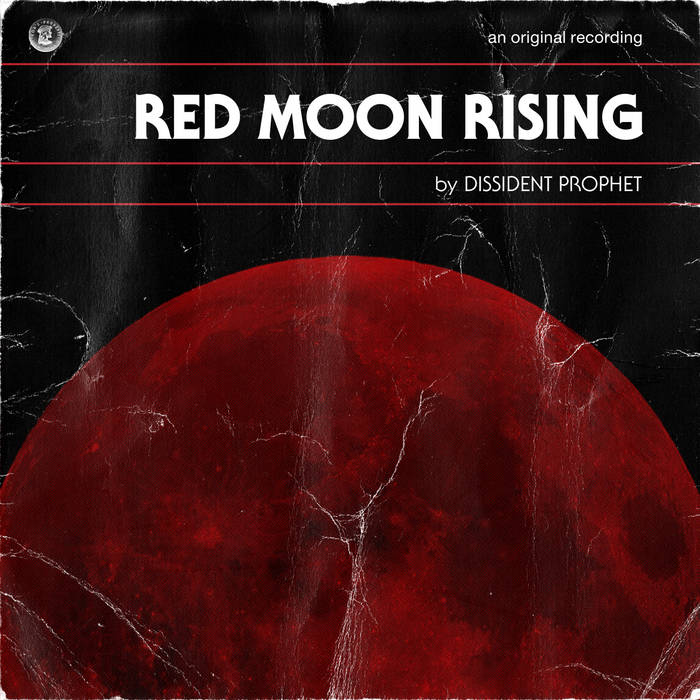 Dissident Prophet
Red Moon Rising
Independent
http://dissidentprophet.bandcamp.com/
Released on June 29, 2015
Birmingham, UK has produced many noteworthy musical acts over the years.  Such diverse bands as The Moody Blues, Black Sabbath, and Duran Duran hail from this locality, and each can be considered an iconoclast, eschewing the trends of the day to create something new and exciting.  Dissident Prophet is following in the footsteps of their Birmingham forefathers, creating indie music that pulls from a variety of influences.  Interwoven into the bedrock of U2, Crowded House and Echo & the Bunnymen are liberal amounts of folk, rockabilly and punk, and an apocalyptic vision that is at the core of the band's message.  If the sound of the band's name evokes images of a lone voice crying warnings from a street corner, the reality that is Dissident Prophet's Red Moon Rising isn't too far from that vision. 
It's clear from their lyrics that Dissident Prophet is a band with a mission.  Listening to just a handful of songs you'll find religious imagery and conspiracy theory themes.  Christianity is obviously at the core of these songs, but a more free thinking, human centered faith than what televangelists and your granddaddy might preach.  Dissident Prophet appear to be targeting the fringes of the faith – the devout who question how their beliefs fit into today's society and technology.  The album opens with "Human 2.0," a cautionary tale about the growing transhumanism movement and its goal of altering humanity through science.  The opening guitar riff pays homage to, fittingly, The Church, and hits a mid-paced stride that establishes the pace for the rest of the tracks.  It's in this groove that Red Moon Rising makes its stand. 
As these songs run their course a broad range of sounds and emotions are presented.  "Getting Comfortable In Babylon" adds a bit of rockabilly, and speaks out against spiritual complacency with a wit that brings to mind Steve Taylor's snarky soliloquies.  "Jerusalem Descending" takes a gypsy folk road that would fit well on a Voltaire album.  The lyrics speak longingly of a future time when all is set right after the return of Christ.  The plaintive vocal melody creates images that will resonate even with those who might not be in line with the band's worldview.  "Dig" flows back and forth between proto-lounge music and punk rock, with a bit of Blur thrown in for good measure.  "All Coming Down" has a garage rock groove that is perfectly suited to Dissident Prophet's indie rock sound.  Soaring over the disco fueled guitar riffs of "How Long" are full harmonies that add depth to the chorus.  The songs presented span genres and the breadth of human emotion. 
Dissident Prophet makes no excuses for being on mission on these songs.  "The Word" uses the first chapter of the Gospel of John as lyrics, while alternately channeling the grooves of lo-fi masters like Pavement and 90's punk-informed alternative a la Morella's Forest.  "He Sat Down" tells the story of the last supper, with Jesus washing the feat of his disciples.  Musically in the same vein as the folksy "Jerusalem Descending," lyrically this track juxtaposes the servant who cleansed the dust from his follower's feet and died horrifically with the image of a coming king, ending Red Moon Rising on a hopeful note.  It's clear that this is a band that has defined their vision, and is forging their own path against the grain of unbelief.  Lyrically, these songs may not appeal to everyone, but musically, there is depth and emotion here that can't be denied.  I didn't expect to like this album as much as I did, but the raw emotion and constantly changing soundscape had me intrigued after just a few songs.  Indie rock fans will find much to enjoy on Red Moon Rising.
Reviewed by Jim 1340
[hmyt]https://youtu.be/Xwah_k24i0I[/hmyt]
#DissidentProphet #RedMoonRising #ApocalypseRock #Indie #Jim1340