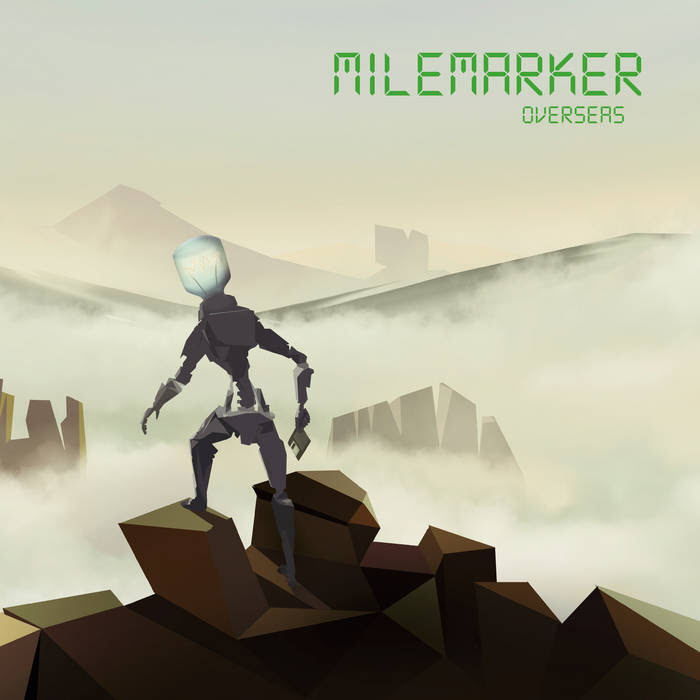 Milemarker
Overseas
Lovitt Records
https://milemarkerband.bandcamp.com/
Release Date: August 26, 2016
Any music fan has bands that define different periods of our lives. For those of you who don't get what I'm talking about watch this scene here. For me the past year or so of my life has been the Milemarker period. I've raged with Future Isms. My insides have been numbed solid by Frigid Forms Sell. Dance parties have been held to Anaesthetic and portions of Changing Caring Humans. I've learned from Ominosity & Non Plus Ultra (the albums I missed). Satanic Versus has been the soundtrack of my battles with some massive change in my life. All in all, I've related strongly to the work of Al Burian, Dave Laney and whomever was along for the ride. 
Needless to say, I was ridiculously excited when Overseas was announced. The day I saw it I ordered the colored vinyl option (it's a gorgeous clear green with black smoke). I waited with baited breath. I was excited by the Conditional Love single even though the packaging was as lazy as possible (it's a paper sleeve with a tiny sticker). The day I received the record I listed to it multiple times over. And since then I've gone back to it a few times, but I wanted to wait before I wrote this review.
Overseas is a good record. The songs are solid. The sound is a little older, more rock than hardcore, but it's still Milemarker. Yet, it's not Milemarker. The thing that defined everything Milemarker did before Ominosity was that it was angry. Not every sound was punk in it's tone, but the rage and attitude behind was a punk as can be. Heck, Al Burian even made working at Kinko's into the world's angriest profession in his Burn Collector zine (I still want to ask every FedEx Office worker I run into if they have seen his work). This big difference between this and their prior work is that rage has been sated.
So what are the stand out tracks? The closing "Supercomputer" hearkens back to early Milemarker with it's solid riff and Al Burian's yells mixed with gang vocals. It's the strongest track on the album and a shame that it's last.  "Conditional Love" the opening track sets the tone for the album with it's futuristic rock vibe a solid synth line and blend of processed and clean vocals. The most punk track on the album "Carrboro" sounds like it could have been a b-side to Frigid Forms with it's synth work. 
Overseas is a solid "grown-up" album from Milemarker. If you are a fan of their prior work it's definitely a solid pick up. It's a great futuristic synth-rock effort. I just wonder what would have happened if Dave & Al could have convinced Roby Newton to add her voice to the songwriting process.
Reviewed by: Rob Froese
[hmyt]https://youtu.be/4P6YTXMirQY